Barn owl pictures and paintings
Pictures of barn owls and other British owls
This page focuses on my barn owl pictures. The barn owl, Tyto alba, which is surely one of our most popular owls is one of my oft repeated subject. The picture of a barn owl hovering over an atmospheric marsh never fails to inspire. Other pictures displayed include the tawny owl, little and short - eared owl.
View my pencil sketches of a hovering barn owl

Barn owl over the marshes
Oil painting, 30 x 24 inches £2900
Sold 12/2003



Owls are more vocal than they are visible, they are cryptically camouflaged and during the day most species roost huddled up in cover. Local tawny owls vocalize regularly and can often be seen hunting when they have young. Knowledge of the different owl species' calls enables me to detect the occasional visits by barn, long-eared owls and little owls.

Knowing the "hissing squawk" calls for food of young tawny owls means that I come across them every spring.


OWL LEAVING THE NEST

This youngster was located only a short stroll from my door. Calling from a post overlooking a busy cycle track it hadn't been noticed by anybody else. Owls like many species of predator can be mobbed by their prey species. In an attempt to avoid unwanted attention young owls keep their eyes closed. This safety mechanism was also adopted for me.

Young Tawny Owl, Strix aluco
Please note the barbed wire might look like its passing through the owls head but I assure you that they have a good depth of fluff on top!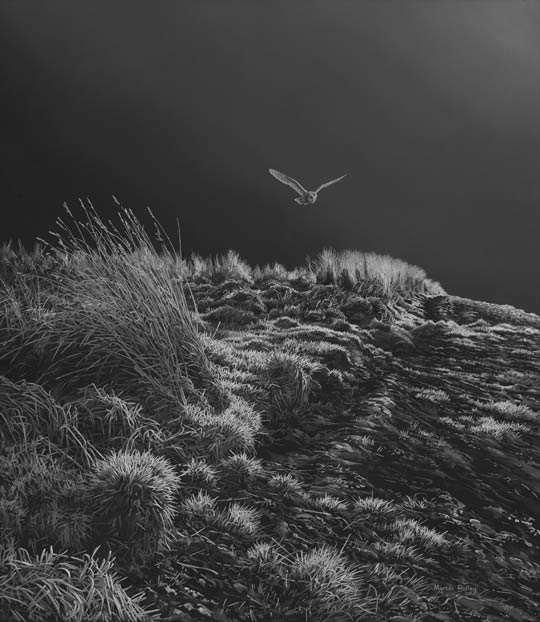 "Moonlight Hunter", Barn Owl
Oil painting, 29 x 26 inches £3395
Sold 9/1/11
Hunting Barn Owl Print



Tawny Owl Strix aluco Oil painting, 16 x 24 inches Original sold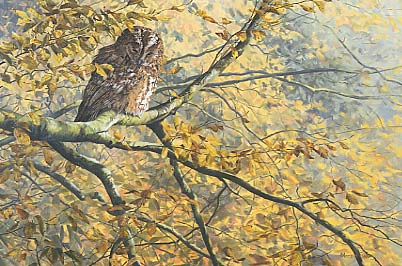 Tawny owl and autumn leaves - limited edition print
Print image 242 x 363 mm
(approx. 9 x 14 inches)




Limited edition of 150 giclee prints
Prints are signed and numbered by the artist
Prints are on Somerset Velvet watercolour paper



Barn Owl Tyto alba Oil painting, 16 x 20 inches Original sold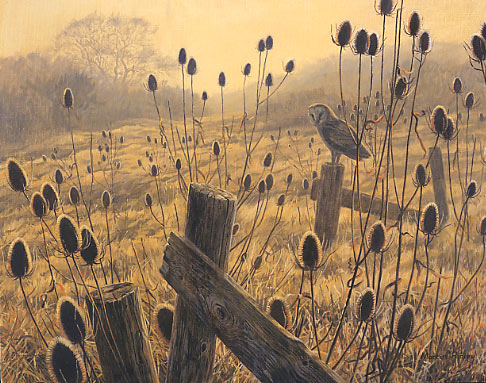 "Barn Owl and Teasels - signed open edition print
Print image 251 x 314mm
(approx. 10 x 12 inches)




Barn owl print
Limited edition of 150 giclee prints
Prints are signed and numbered by the artist
Prints are on Somerset Velvet watercolour paper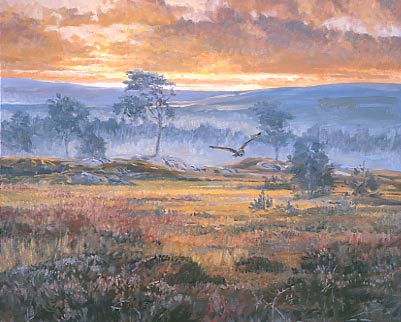 Hunting short-eared owl, Asio flammeus
Oil painting, 18 x 22 inches
Sold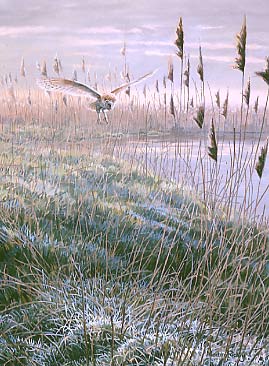 Hunting barn owl, Tyto alba
Oil painting, 16 x 12 inches
Sold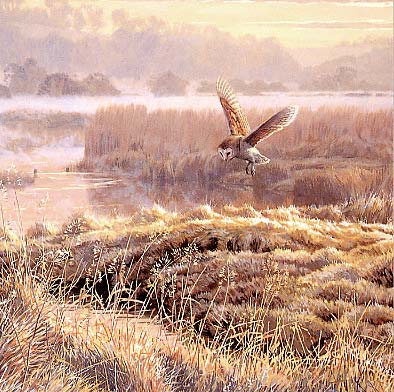 Hovering Barn Owl, Tyto alba
Greetings Cards (blank)
Pack of 10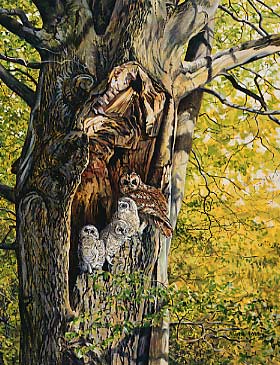 Tawny owl nest, Strix aluco
Oil painting, 22 x 17 inches
Sold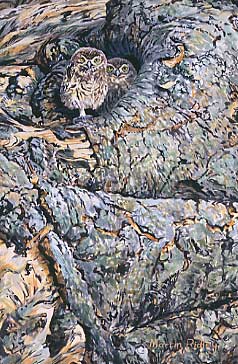 Young little owls
Acrylic painting, 9 x 6 inches, Sold 4/2003


All images ©
No reproductions permitted without written consent



Little owl, Athene noctua
Oil painting, 20 x 16 inches
Sold



Barn owl Tyto alba Oil painting Original Sold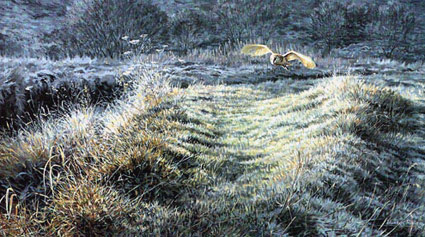 "First light", barn owl - limited edition print
Image size 210 x 382 mm
(approx. 8 x 15 inches)




Limited edition of 450 prints - signed and numbered by the artist.
Reproduced from an original oil painting.

wildlife art - limited edition prints

How to commission a painting


Link to my commissions page for further details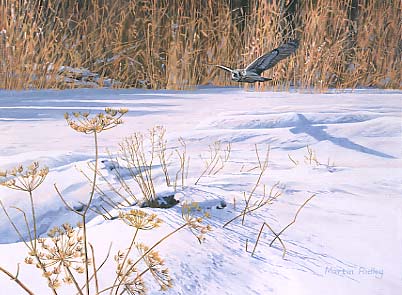 Short-eared owl, Asio flammeus
Oil painting, 12 x 16 inches
Sold