Buy art - oil paintings for sale
Purchase original oil paintings
1st of 3 pages
Original oil paintings for sale - all paintings and drawings by artist Martin Ridley. Buy oil paintings depicting wildlife subjects in their natural surroundings. I try to keep a stock of about forty original oil paintings for exhibition purposes with the added benefit that there is always plenty to look through.
If you find a painting, which you would like to purchase contact me directly to confirm availability. The works offered here are not the only oil paintings, which I have for sale. Feel free to send me an e-mail if you are looking for an original of something in particular. >> contact
View latest paintings
Sometimes I use this page to display recently created pieces of artwork
which are awaiting framing and final pricing. Enquiries are welcome.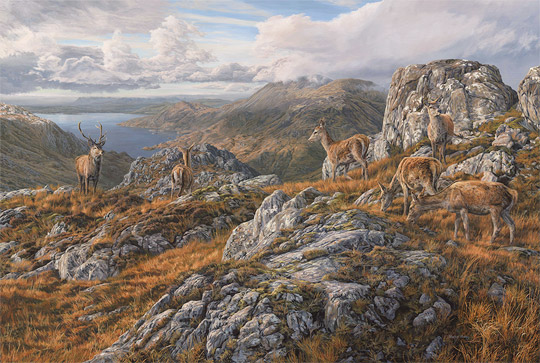 "Ben Sgritheall"
View from Druim Fada past Ben Sgritheall across Loch Hourn to the Cuillin of Skye

Oil on canvas, 40 x 60 inches
For Sale, £18,800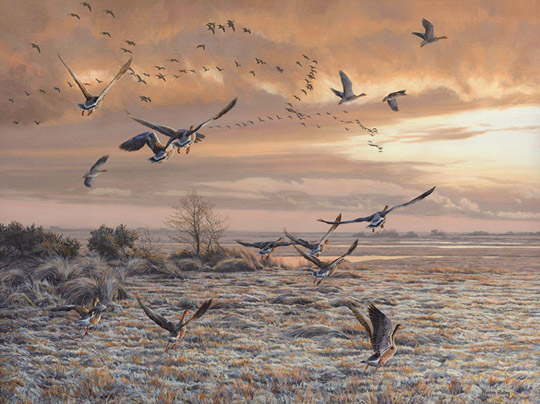 "Lift Off" Greylag Geese
Oils, 30 x 40 inches
For Sale £11750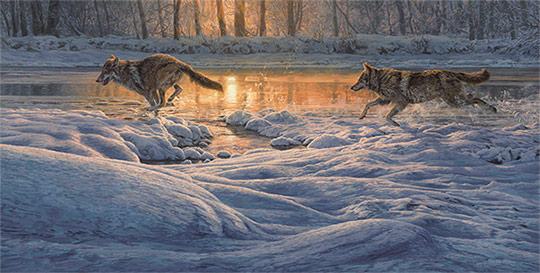 "Upping the Pace", Chasing Wolves
Oils, 21 x 42 inches
For Sale, £6350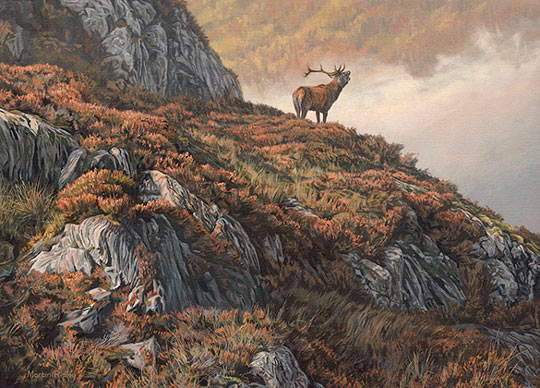 "Above the Mist" Roaring Red Deer Stag Painting
Oils, 16 x 22 inches
Sold £2100 31/7/17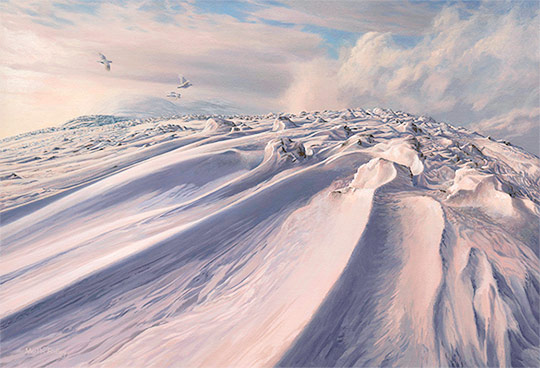 "Flight of Ptarmigan", Snow drifts on Schiehallion
Oils, 18 x 26 inches
Sold, 2/7/17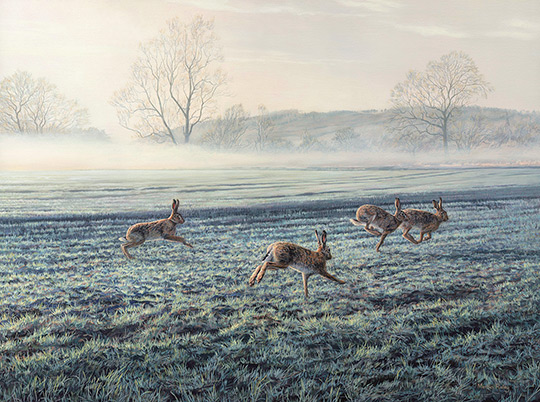 "Cantering Hares", Frosty Morning
Oils, 28 x 38 inches
Sold, £5300 21/6/17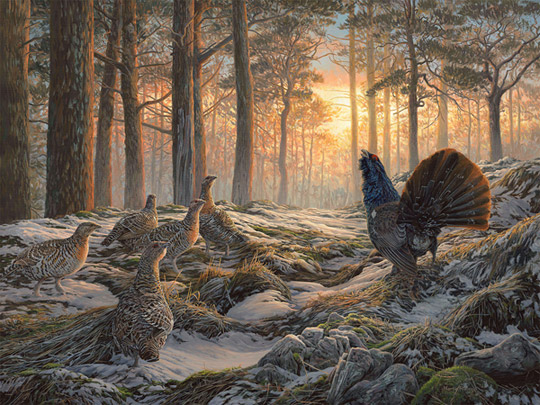 Capercaillie
Oils, 29 x 39 inches, £10850
Sold 2/6/15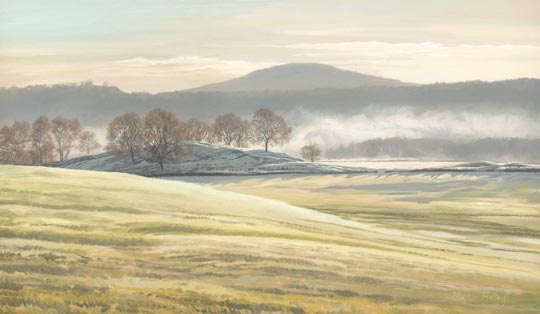 "Misty Morning"
Oils, 12 x 20 inches, £495
Sold 13/9/14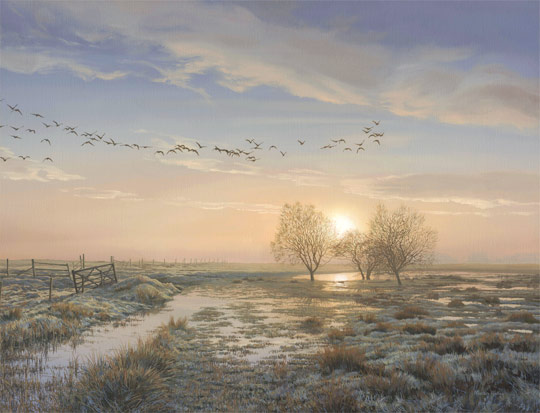 "Geese at Sunrise"
Oils, 29 x 39 inches, £6650
Sold 8/7/15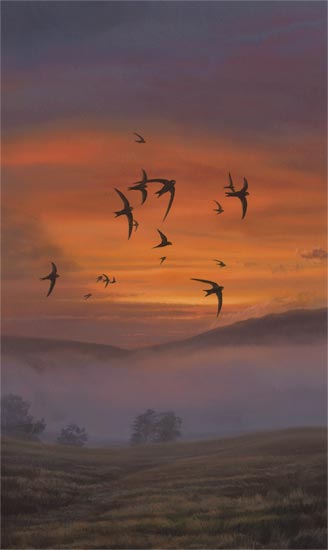 "Summer Evening", Swifts
Oils, 27 x 17 inches, £1675
Sold 5/8/13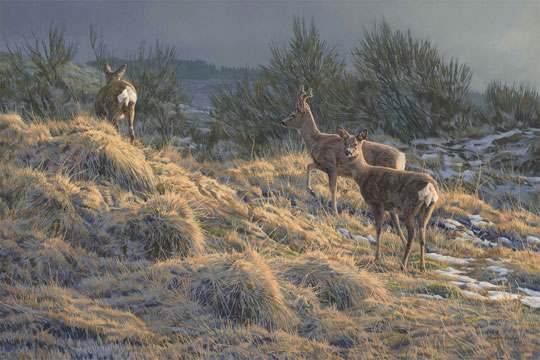 Roe Deer Trio
Oils, 20 x 30 inches, £3450
Sold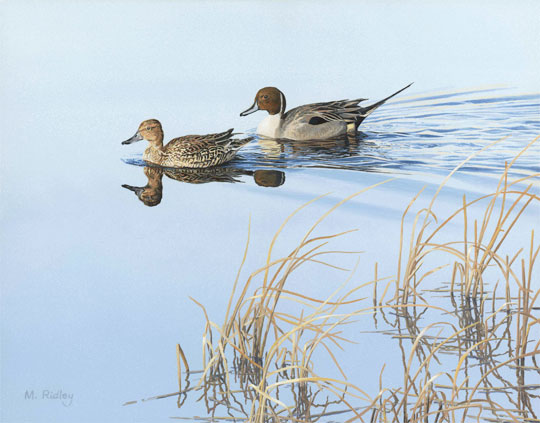 "Tranquil Waters", Pintail Ducks
Oils, 10.5 x 13.5 inches, £1150
Sold 29/11/12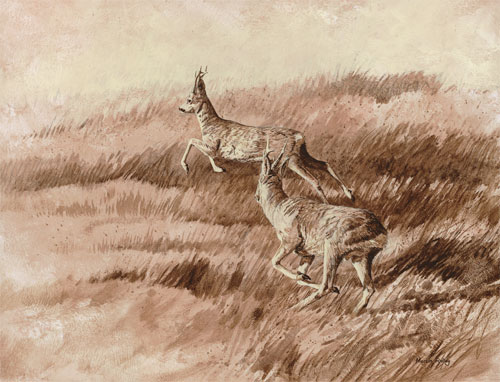 "Here comes Trouble " Chasing Roe Bucks
Acrylic, 18 x 24 inches, £795
Sold 29/11/12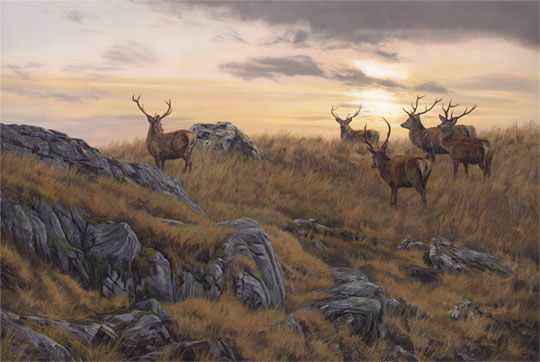 "Lowering Sun" Red deer stags
Oil on canvas, 20 x 30 inches, £3100
Sold 5/10/10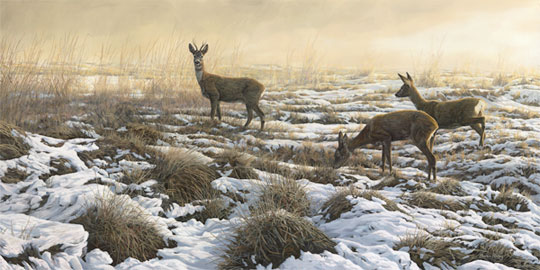 "First Snow", Roe Deer
Oil painting, 24 x 48 inches, £6650
Sold 10/10/2010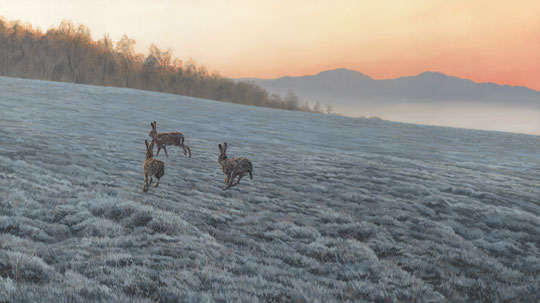 "Aberuchill Skyline", Brown Hares
Oil painting, 20 x 36 inches, £1895
Sold 21/11/09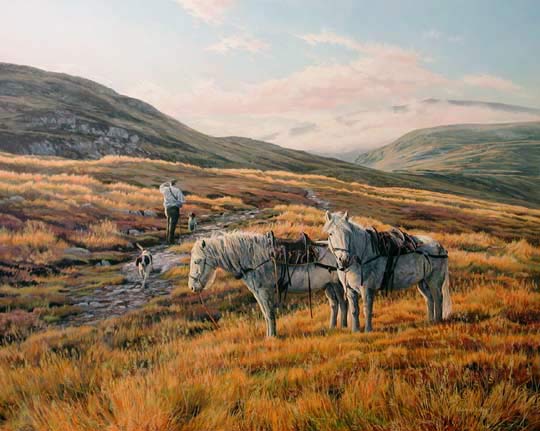 Stalking Ponies, Ben Vorlich
Oil painting, 24 x 30 inches £2950
Sold 3/4/10


Buying an Original