Duck pictures - bird paintings
Original oil paintings of ducks
Selection of duck pictures and paintings. View original paintings of waterfowl in their natural habitats. Species of ducks illustrated include northern pintail duck pictures, goldeneye, shoveler, tufted duck, pochard duck and smew. I'll begin the selection with a northern pintail duck picture.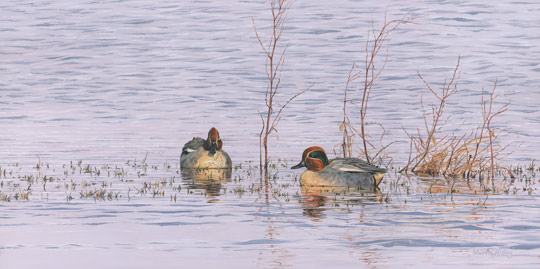 Drake Teal and Seed Heads
Oil painting, 12 x 24 inches, £1295
Sold 23/12/09
Teal Prints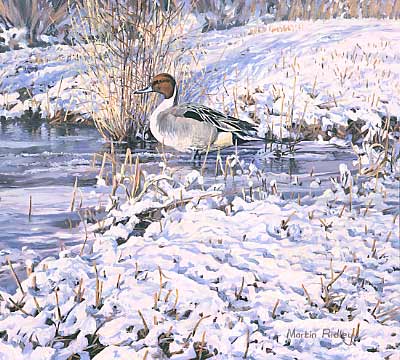 Northern Pintail Duck
Oil painting, 11 x 10 inches
Sold

Original duck paintings for sale



Pintail Ducks & Lapwings
Oil painting, 15 x 19 inches Original sold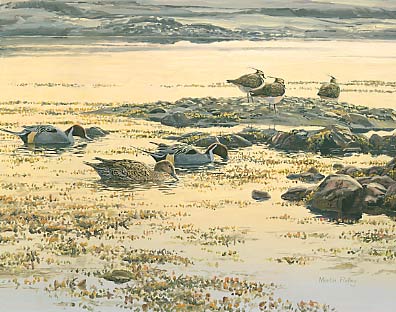 Pintail and Lapwings - limited edition print
Print image 251 x 320 mm
(approx. 10 x 12 inches)



Limited edition of 150 giclee prints
Prints are signed and numbered by the artist
The prints are on Somerset Velvet watercolour paper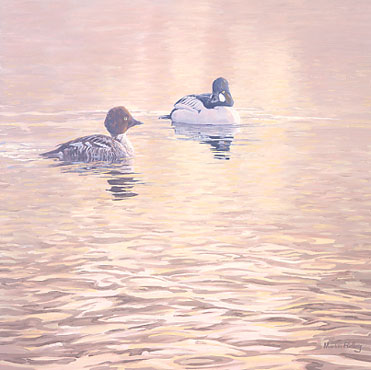 Goldeneye Duck Pair
Oils painting, 16 x 16 inches
Sold

Wildlife prints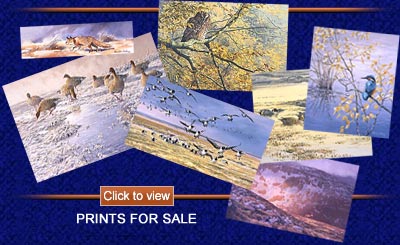 Shoveler Duck
Oil painting, 8 x 24 inches
Sold


"Tuft trouble", tufted duck
limited edition print
Image size 255 x 148 mm
(approx. 10 x 6 inches)



Limited edition of 450 prints
Signed & numbered by the artist
Reproduced from an oil painting.

View more duck prints



Tufted Duck Oil painting
Original sold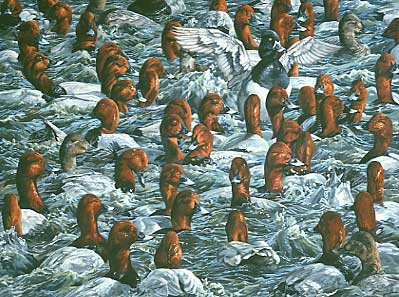 "Feeding Frenzy"
Pochard and a Ring-necked Duck
Oil painting, 30 x 40 inches
Sold

The above oil painting features on the free wildlife screensavers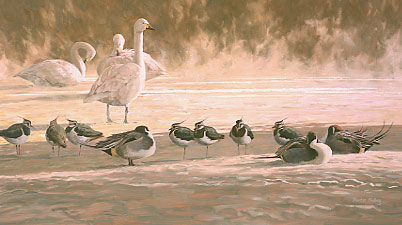 Bewick`s Swans, Lapwing and Pintail Ducks
Oil painting, 17 x 31 inches
Sold

Wildlife prints



"Passing storm", teal
Oil painting, 24 x 30 inches, £2350
Sold 5/11/03

Martin Ridley - Greetings cards for sale